Developed by Pocket Trap and published by Modus Games, Ninjin: Clash of Carrots is a fun little anime-inspired beat 'em up game with an adorable pixel art style, and plenty of action. Set in feudal Japan, you play as either the titular rabbit, Ninjin, or a fox named Akai (both with fantastic martial arts skills to boot!) on your quest to save the day after the evil Shogun Moe has stolen all of the carrots.
There are a wide variety of weapons and items to collect - over 150 in fact, which can be purchased from the Corgi Store using the carrots you collect along the way. Special rainbow carrots (which are far less in number) can be used to purchase special weapons, masks or other customization items from the Shady Shop. You can customise your character to better defeat your foes, choosing the best arrangement of masks, swords, projectiles and more. Weapons have stats to show you how powerful they are, versus how much stamina you will use to utilise them. Projectiles' abilities can vary, with some ricocheting off of enemies to damage others, and some (like the Kunai) shooting straight through them, allowing you to take out multiple targets in one shot.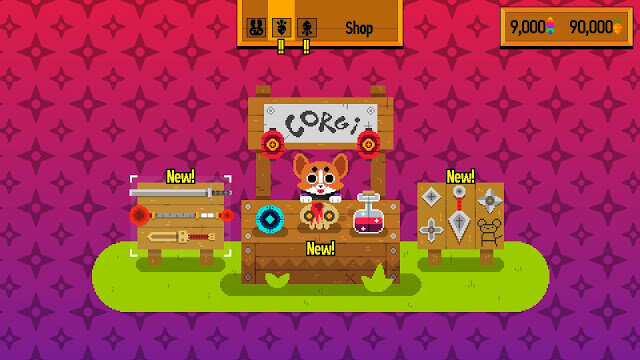 The gameplay is fast-paced and super fun, you'll be dodging around the screen as you try to slash your way through all of the enemies, and if you choose - you can play in 2-player couch co-op (or online!) to add another layer of fun. Bosses are unfortunately not very memorable, but still add a little bit more challenge to the levels, and you can replay each level to gain the elusive S-rank for them all (turning all of the level icons orange in the process). Sound design is well done, with a retro style soundtrack that really fits the tone and theme of the game.
There are two modes of play: Story Mode, which as you'd expect is interesting and allows you to meet a wide range of characters and work your way through the story as you try to retrieve all of the stolen carrots, and there's another mode called "Oni TV Show" which is a horde-mode style of play, where you will fight waves of enemies for rare rewards. Both modes can be played alone or with a friend, which makes it all the better.
Available for £8.99 on Xbox One, or £11.99 Playstation 4, Switch and Steam, we'd recommend you check it out if you like beat 'em ups (and are partial to collecting all of the weapons!). The levels are a little repetitive and samey, but if you can look past that you'll still have a great time.